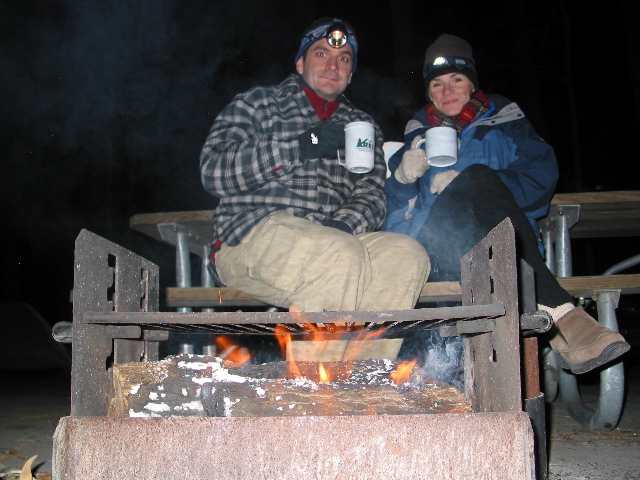 Pocomoke River State Park, Maryland
The best couples, it always seemed to us, were the ones who had much in common but still maintained at least a few, separate interests: things one enjoyed doing that the other was happy to let them enjoy ... alone.



For us, there was winter camping.



Karen was always happy to let Garvin do that one ... alone. In fact , "I promise, Sweetheart, no winter camping," was heard more than once before the USS Enchilada left its Yarmouthport dock on December 1st.


Well, you know what they say about promises.



OK, we know we decided to travel cross-country in winter, but come on, we went south as fast and as far as we could.

Still anything resembling warm weather eluded us.


On the bright side, if you don't like crowds, December is the time to travel. We had one of the world's great museums, Washington D.C.'s Smithsonian, all to ourselves. It was terrific for browsing the displays, such as a powerful 9-11 exhibit in the American History Museum. It was kind of silly, though, when we were the only two customers in the Air and Space Museum cafeteria which could have comfortably sat two thousand (adding insult to injury, we brought our lunch in).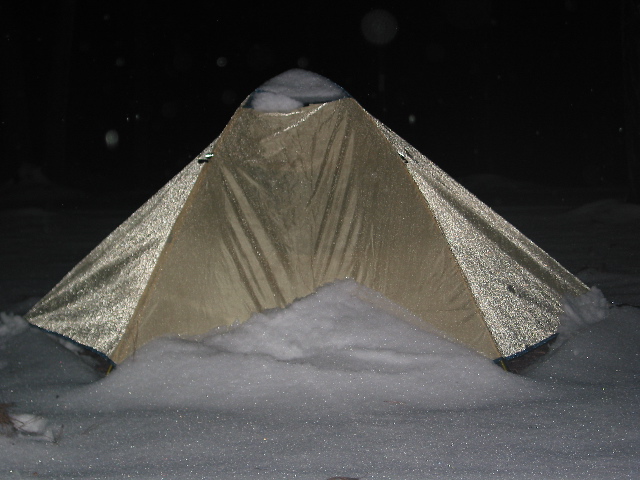 Pocomoke River State Park, Maryland




If there was a saving grace where weather was concerned, we took a route hugging the East Coast, in effect just grazing that ice storm that hit the Carolinas pretty hard in early December. All we had to do was scrape three inches of snow and ice from our tent on Maryland's Eastern Shore.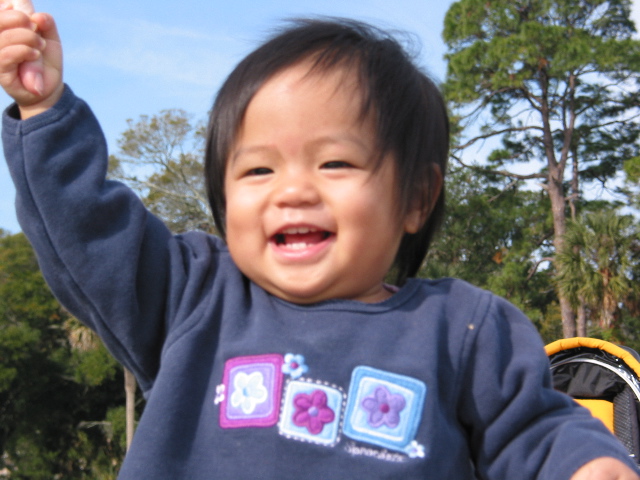 St. Augustine, Florida


Sunshine, at last, greeted us in Florida in two ways. The second of which was in the form of a perpetually happy little girl named Scout (pause for a moment to let her parents roll their eyes). Garvin's brother Bob and his wife, Tricia, adopted Scout from Vietnam last April and she celebrated her first birthday last October.


Southern Hospitality
or, How Karen Came to Eat a Pork Chop
While passing through New Orleans we were treated like Kings (as in bed size) by Tricia's parents Pat and Judy Booker. Pat had the amazing, never-before-seen, ability to get Karen to eat any food he wanted ... and in large quantities. If you need any proof: the pork chop in question was part of her breakfast.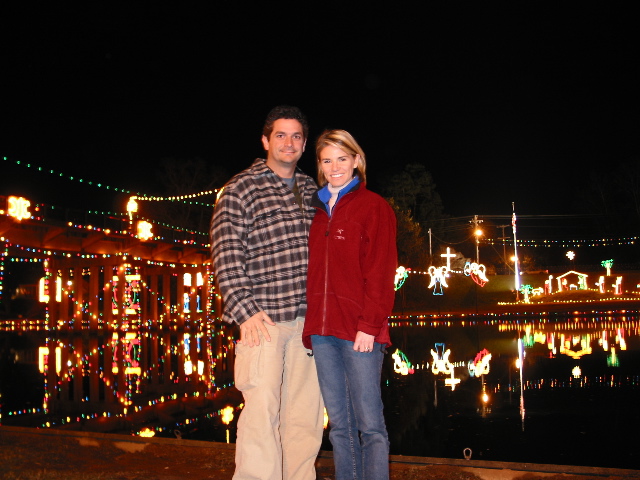 Natchitoches, Louisiana




One of the more pleasant surprises of the trip for us so far was the town of Natchitoches (pronounced, for some reason, nack-a-dish), Louisiana. We stumbled one night across this historic town, the oldest in the Louisiana Purchase, and into one of the most charming displays of Christmas lights we saw anywhere.
In Fort Worth, Texas we had the pleasure of visiting with Karen's relatives, the Ruckers and Culpeppers. Special mention must be made of Uncle Curly and Aunt Hazel. 89 and 86 years old respectively, they are both legally blind, but going as strong as any pair of teenagers in love you've ever met.


Hazel has been collecting rooster-themed paraphernalia for decades now and there must be thousands of roosters all over the house. Even so, Hazel can still tell you exactly where each one came from and who gave it to her. "There's a story behind each rooster," she says. It was the one time during the trip Garvin wished he had a video camera (and talented photojournalist) with him.


That's Sad When Rooms Cost Just $19.99
San Angelo, Texas
We continued to have most of America to ourselves as we headed west camping across Texas and New Mexico. It was a real treat to stand in the Big Room at Carlsbad Caverns National Park and have it be so empty and quiet you could count the water drops as they created new stalagtites and stalagmites ("Stalagtites hold tight to the top, stalagmites just might one day make it," is what one enthusiastic ranger told us.).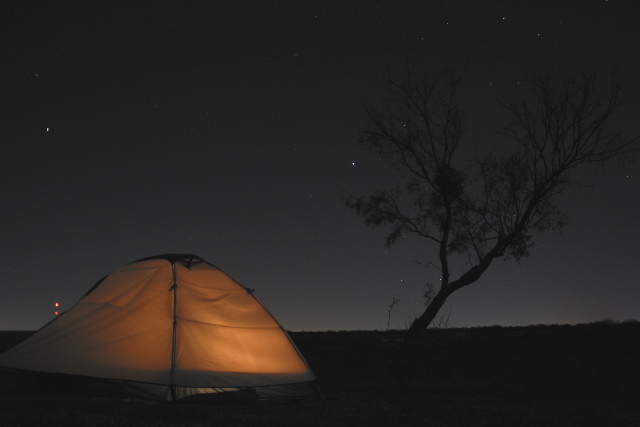 San Angelo, Texas
As our time was running short, we dashed through Arizona (sorry Sun Devils) and spent the night in Las Vegas before heading north to Yosemite. By spending the night, though, we dont actually mean sleeping; after sightseeing along the strip, Karen stood for hours on end watching Garvin struggle to break even at the black jack table.



They always say "don't gamble with money you cant afford to lose" and with our slim budget we couldn't afford to lose a cent (although, if he had won enough, we would have sprung for a hotel room).


YO - SEH - MIGHTY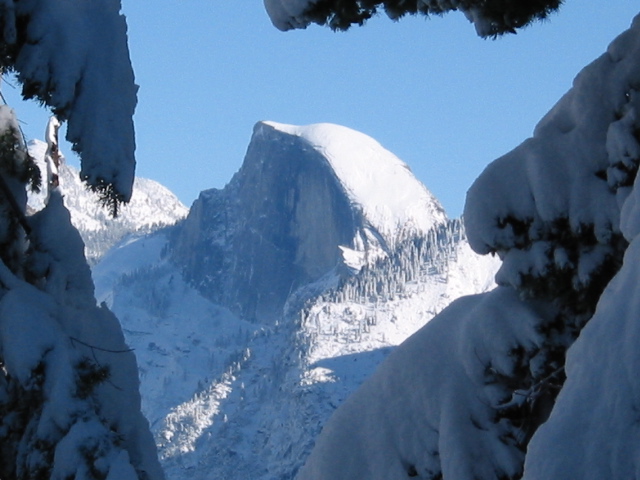 Yosemite National Park, California
It would be hard here to describe the beauty we encountered during our stay in Yosemite National Park in California. A foot of snow had fallen the night before we arrived and another foot fell the second night we were there. We could say once again we were practically alone in the park (not to mention the campground) but that goes without saying.


Yosemite National Park, California
As the snow fell our last night there, we sat in a small theater and listened as the spirit of the great outdoorsman and environmentalist John Muir (as portrayed by Lee Stetson) told of his favorite winter-time adventures.



It was fitting, to say the least.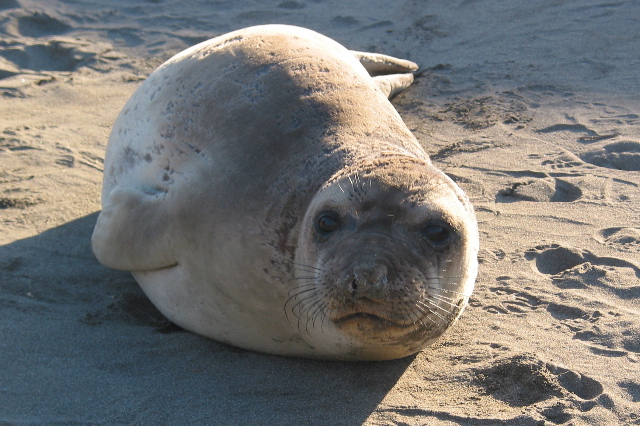 San Simeon, California
The rest of our California time was spent enjoying the holidays with family in San Francisco and Templeton. In between the two, we took in more amazing American scenery: the Pacific Coast Highway on a brilliant blue-sky day, spotting (and at times, running from) elephant seals on the beaches of San Simeon.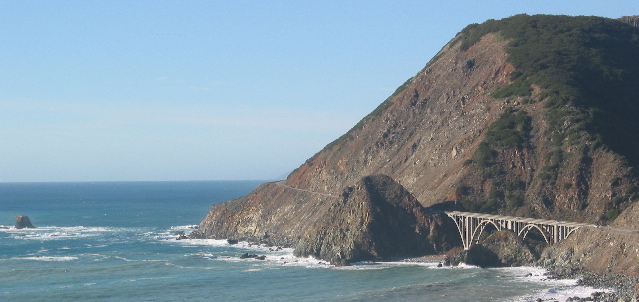 Pacific Coast Highway, California
"I'm going out the bathroom window!"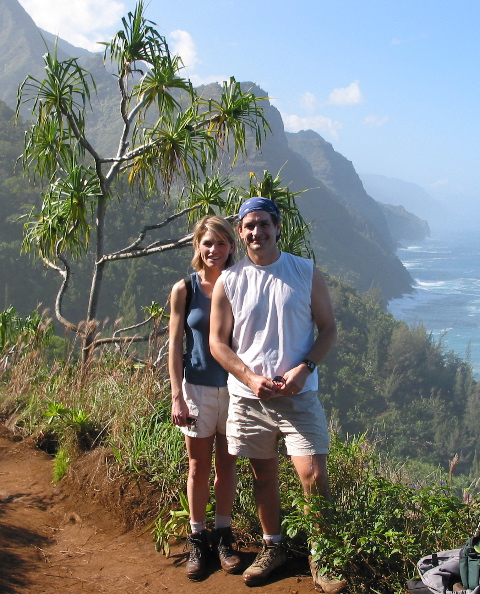 Na Pali Coast, Kauai, Hawaii
The Hawaiian island of Kauai was the answer to all our warm weather longing. That is, once we got there. An overnight lay-over at the Honolulu apartment of a friend of Karen's who was out of town, turned into something of an adventure. At five in the morning, with our ride to the airport waiting outside (meter running, we presumed) we found ourselves locked IN. Couldn't unlock the door, or the windows, from the inside. After some frantic pulling, jiggling, and swearing Garvin discovered an unexpected escape route. With all the noise he made, we were surprised no neighbors called to report a break in (or out).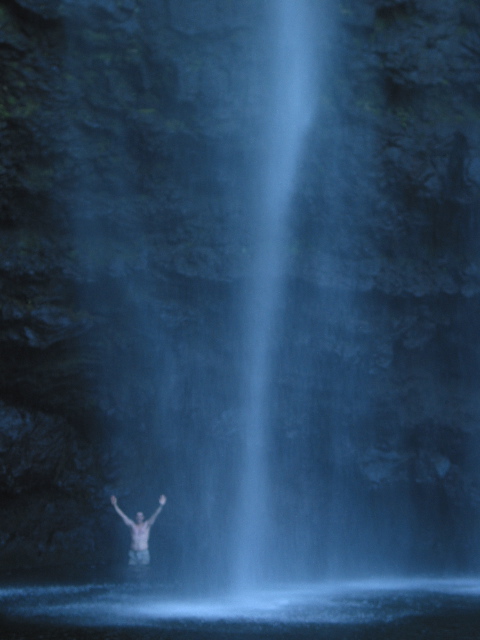 Hanakapiai Falls, Kauai, Hawaii



It's a good thing we love the outdoors ... particularly in Hawaii. First, of course, are the amazing hikes we've done: Hanakapiai Falls along the Na Pali Coast and the Awaawapuhi Trail in Kokee State Park to name just two. Second, the outdoors stuff doesn't cost much and with the prices here that's important.
Kokee State Park, Kauai, Hawaii
We have to say a special thanks to Tony and Susan LeHoven. They bravely (or stupidly, we're not sure) took us out on their sailboat in some of the stormiest weather they, or we, had ever sailed in. It paid off though. Karen spotted migrating Humpback Whales breeching off in the distance. It was spectacular. Sorry, you won't see any pictures of the whales because everyone needed both hands at all times just to stay on board.



Hanalei Bay, Kauai, Hawaii
A special thanks to everyone whose hospitality and generosity made this leg of the trip possible. And thank you for reading this far. As a reward, check out more pretty pictures.


All photographs Copyright Garvin and Karen Snell 2004