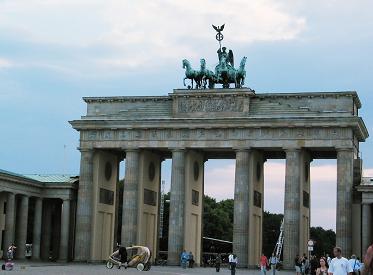 Berlin, Germany
"Oh, my gosh. Paved roads!"
When that is your first impression upon looking out the window as your plane lands, you know things are going to be different. After a month in Mongolia, travelling on the roughest of roads in some of the roughest of vehicles, seeing cars breeze along Berlin's autobahn made our flying machine feel more like a time machine. In a matter of hours it had taken us across both continents and centuries.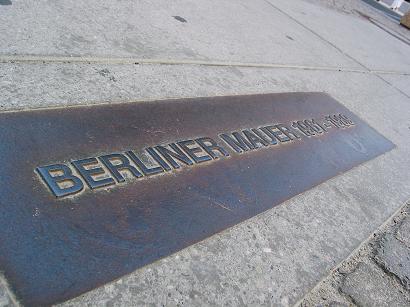 Berlin, Germany
Add to that the computer terminal at the airport which printed out for us the bus and subway routes, transfers, and EXACT time (52 minutes) it would take to get to our youth hostel. Culture shock was settting in.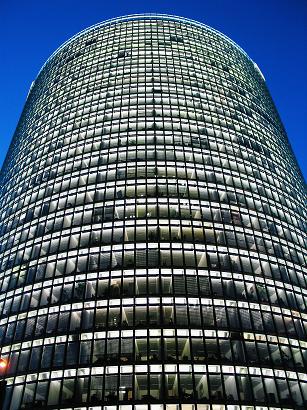 Berlin, Germany
We had decided on Berlin for a number of reasons:
1) It was one of only two European cities Mongolian Airlines flies to.
2) We wanted to explore a city that has seen quite a few political, social, and architectural changes recently.
3) It was somewhat close to Amsterdam - our next stop.
Just how we were going to get to Amsterdam depended on one thing: money. We quickly learned that our budget was not going to get us very far in Germany, or the rest of Europe for that matter. Take, for example, our night in a Hamburg youth hostel - dorm beds, in separate rooms - cost: $55.
So, hitch-hiking and camping it was going to be from Germany to The Netherlands.
"WE HAVEN'T SEEN HITCH-HIKERS IN YEARS!"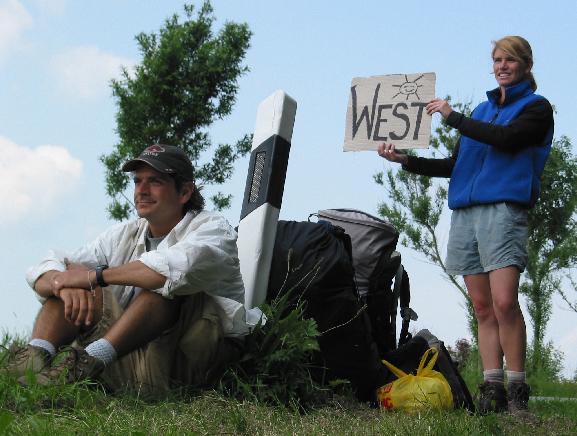 Horumersiel, Germany
We gave ourselves one week, planned on sticking to secondary roads, tried to look as clean and friendly as possible, and hoped for the best. As we had learned from previous experiences you never know what to expect when hitch-hiking. But, on our first day, before we even had a chance to stick a thumb out, a woman pulled over and offered us a lift.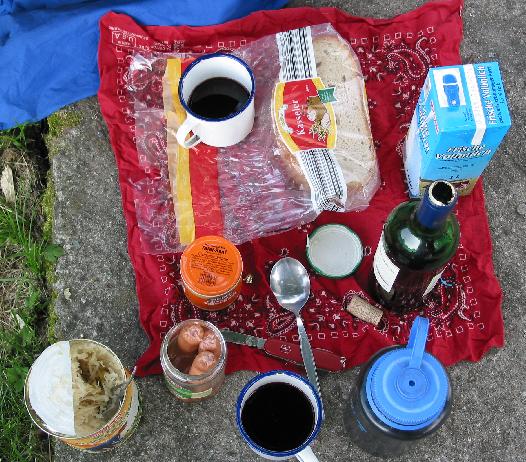 Wilhelmshaven, Germany
We then went with her to pick up her daughter from kindergarden before dropping us off. That gives you just some idea of how trusting and friendly our rides turned out to be.
With the help of seven other drivers we made it to Hamburg that first day. People were willing to help us out, even if they were only going a few miles down the road. As we travelled through the countryside of the former East Germany, many of our rides said they hadn't seen hitch-hikers in years and were happy to see people giving it a try again (we know they said this because Garvin was able to reach back in time and remember enough German to speak with them).
Schillig, Germany
As we crossed into western Germany our luck with rides continued - so much so we decided to head a little out of our way and visit the North Sea. Along the way, what started out as a travel day turned into a beach day when one of our rides recommended a campground a stone's throw from the sea. How could we resist?
One of our missions on The Enchilada is to meet the people who live in the places we visit (not always as easy as it sounds). In western Europe hitch-hiking allowed us to do just that. There was the veterinarian who sat and shared an ice cream with us after dropping us off; there was the 20 something deaf man driving his parents car, who communicated with us by writing in a notebook ... while still driving; there was the first Kurdish man either of us have ever knowingly met; there were the proud grandparents of a new baby girl who brought us to see her; and there were the two young guys who told us (as we travelled at roughly 105 mph) that they decided to pick us up because they just finished smoking a joint and our sign said "Amsterdam" (pot is legal there).
Our last ride was perhaps our most memorable. He was a young, successful businessman with a great sense of humor, who, when asked why he picked us up said, "I've never done it before but I'm on my way to Amsterdam to sign my divorce papers and sell my house. My life has turned completely upside down, so why not pick up a couple of compete strangers? What have I got to lose?"
YES, THEY DO WEAR WOODEN SHOES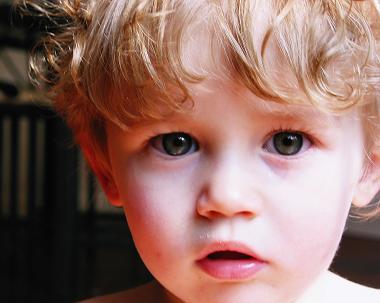 Amsterdam, The Netherlands
Our reason for travelling to Amsterdam was to visit the Snell/Elwell family: Bridget (Garvin's sister), Chelsea, and the star of the show, one year old Jackson. Check out those curls! We were spoiled with a place to stay overlooking one of the city║s famous waterways while we toured the city for a week, experiencing the canals, cafes, and "coffeeshops."
One of us even decided to celebrate six months on the road with a new 'do (or lack thereof).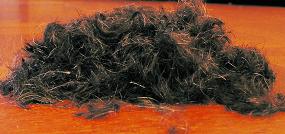 Amsterdam, The Netherlands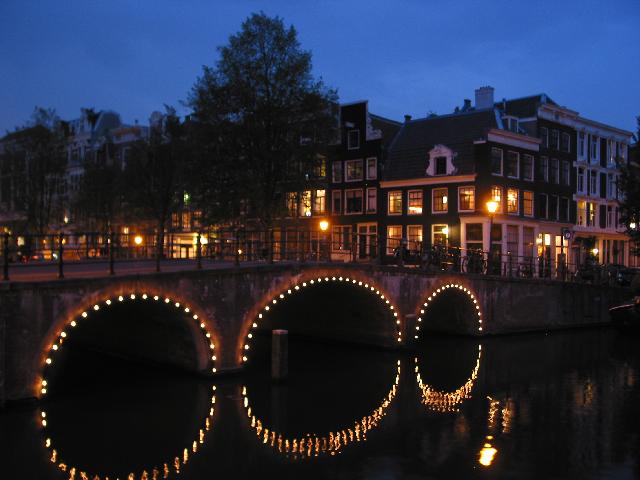 Amsterdam, The Netherlands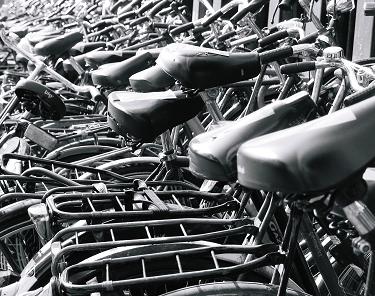 Amsterdam, The Netherlands
Amsterdam is a unique city, teeming with culture, life, and bicycles ... lots of bicycles. Amsterdam is so different, in fact, Dutch travellers we had met during our travels warned us it is nothing like the rest of the country. To see the "real" Netherlands, they said, we'd have to head out to the countryside. So, on bicycle of course, we hit the road. We saw quaint fishing villages, peddled through dairy farms, and actually saw with our own four eyes ordinary Dutch people wearing wooden shoes!
Alkmaar, The Netherlands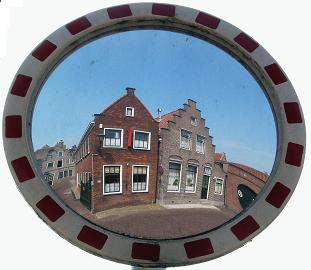 Edam, The Netherlands
We also visited the Alkmar cheese market. In a combination business transaction/specator show, teams of men would run back a forth through the market square carrying huge wheels of Gouda cheese to the weighing house. You have never seen so much cheese in your life (unless, of course, if you've been to Wisconsin).
ANTWERP, WHO KNEW?
Antwerp, Belgium
We did have one bit of housekeeping that needed taking care of while in Europe: return a mosquito net borrowed from a Belgian couple we crossed paths with in New Zealand. Els and Geert live in Antwerp, and since Antwerp is on the way from Amsterdam to Portugal (our next desitination) we decided to save the postage and drop it off in person.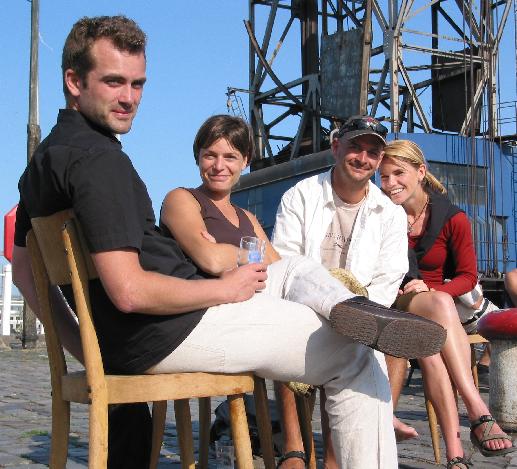 Antwerp, Belgium
What was supposed to be just an overnight visit ended up lasting close to a week. Els and Geert showed us around a city neither of us had been to before (or given much thought to). With so many cobblestone streets and centuries old buildings, Antwerp charmed us. Els also took us on a day trip to Brugge and one of Belgium's few beaches, but mostly we ate, relaxed, and shared travel stories and pictures with a very cool couple who just recently completed a trip similar to ours.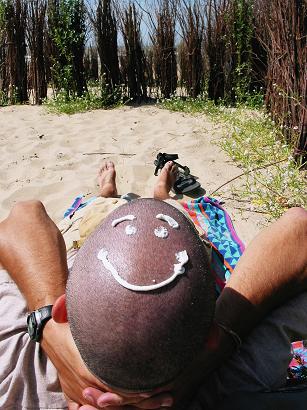 De Haan, Belgium
BEACHES AND BULLS
(or "Sunning and Running")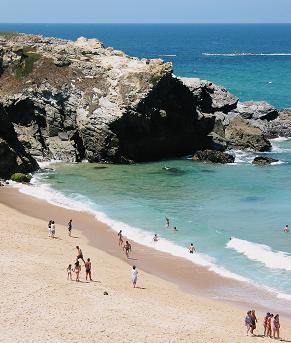 Porto Covo, Portugal
You know, sometimes even The Enchilada needs a vacation. Travelling from country to country, continent to continent for more than six months can wear you down. So, before jumping to southern Africa, we decided to spend our last few weeks in one of Europe's best vacation spots: Portugal. After a two day bus ride from Antwerp to Lisbon (we saw the top of the Eifel Tower from the highway) we rented a car and headed to the Algarve, home to some of the more stunning beaches and coastline either of us have seen.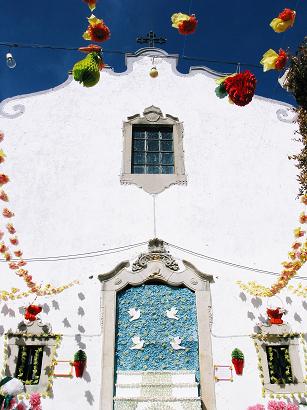 Tavira, Portugal
We did a little sightseeing (hard not to when castles and cathedrals dot seemingly every hilltop) but most of all took it easy basking in the warmth of the sun, enjoying mid-day siestas, and taking in sunsets over the Atlantic (a little different).
Being at the very southwestern tip of Europe, we couldn't resist throwing a message in a bottle into the ocean. We think it made it past the rocks below.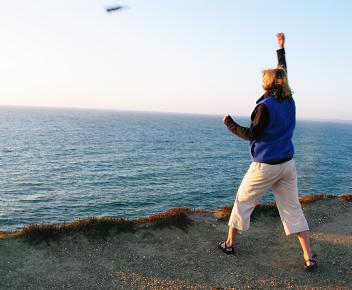 Aljezur, Portugal
Sagres, Portugal
As you may have gathered from previous postings, The Enchilada rarely plans anything more than a day or two in advance, but we had read about one festival taking place while we were in Portugal, and arranged our travel schedule accordingly.
It takes place every July in the charming riveside town of Vila Franca de Xira. Vila Franca's claim to fame is it's history of producing some of Portugal's best bulls and bullfighters. This festival, in particular, honors those men who raise the bulls in the fields outside of Vila Franca.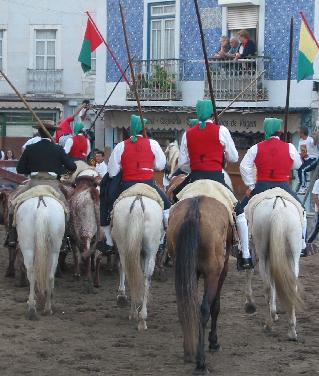 Vila Franca de Xira
So there we were, on the Fourth of July, lined up along a downtown street with hundreds of locals. Were it the United States we would be waiting for a parade with marching bands playing "Yankee Doodle Dandy"; instead this crowd came to see the running of the bulls.
And around the corner they came, charging en mass lead by a team of horsemen wielding lances. As quickly as they came, though, they were gone. Being novices at this sort of thing we thought that was it, but one local told us to stick around. That's when the real show began.
Vila Franca de Xira, Portugal
One of the bulls soon made his way back to our section of the street - no horseman, no trainers, no police - just the bull. He stood in the middle of the street with hundreds of us perched on barricades set up on the sidewalks carefully watching his every move.
Vila Franca de Xira, Portugal
For the next two hours men from the crowd would jump from the barricades and challange this 1,200 pound bull. When the bull would charge the men (sometimes coming within inches of them), the men would make a mad dash for the nearest barricade, flinging their bodies to safety. We learned this was considered the "public bullfight," a much more freewheeling and dangerous version of what happens in the bull ring on Sundays.
This spectacle repeated itself for three days and by the end of the second day Garvin found the nerve (either that or lost his common sense) and jumped off the fence and into the street (that's him in the grey t-shirt). Quite a rush.
Vila Franca de Xira, Portugal
As if pretending to be a bullfighter weren't enough, we were fortunate to meet Rui Periera our first night in Vila France. Rui was a real (1970's era) bullfighter and local celebrity. Rui befriended us and gave us the royal treatment all weekend. We were invited to his brother's traidtional home (Tertulia) for some traditional food (grilled sardines), and wonderful traditional music (Fado). We even met the mayor of the city while there.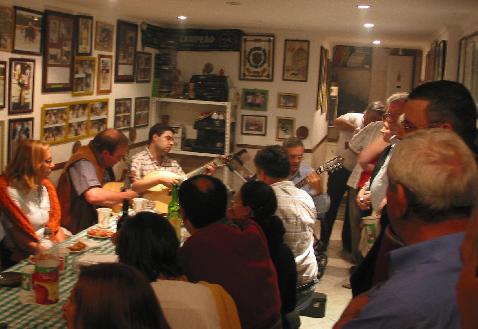 Vila Franca de Xira, Portugal
Rui epitomized the warmth and hospitality we received in Portugal and is one of the reasons why we look forward to returning one day. Our final week was spent back in the lively, colorful capital of Lisbon. One night, after spending a wonderful evening at a beer and music festival staged in a Medeival castle we were suprised by a couple of American travellers (from Brewster, Mass) who recognized us as "The Enchilada People." A nice way to say adeus to our European summer and sawubona to African winter.

Lisbon, Portugal
All photographs Copyright Garvin and Karen Snell 2004