Sydney, New South Wales
We started, where most do, in Sydney. It is a city among cities. It's busy harbor, striking Opera House and multicultural flare were all there for the exploring ... but we had travel plans to deal with, so the sight-seeing was put on hold. While we waited for our Chinese visas to be processed we travelled six hours north to the town of Kempsey and were introduced to real country (or "bush") living by John and Myree Cruickshanks.
BOILING THE BILLY
We knew we were in for a real Aussie treat the first time Myree pulled out the homemade ANZAC biscuits and John prepared to boil the billy for coffee (for explanation see: "Waltzing Mathilda")
On our visit, we saw our first kangaroos, learned about at least a dozen types of birds you won't see anywhere else in the world, saw koalas at a rehabilitation hospital and admired beautiful beach after beautiful beach.
THE SURFING SALESMAN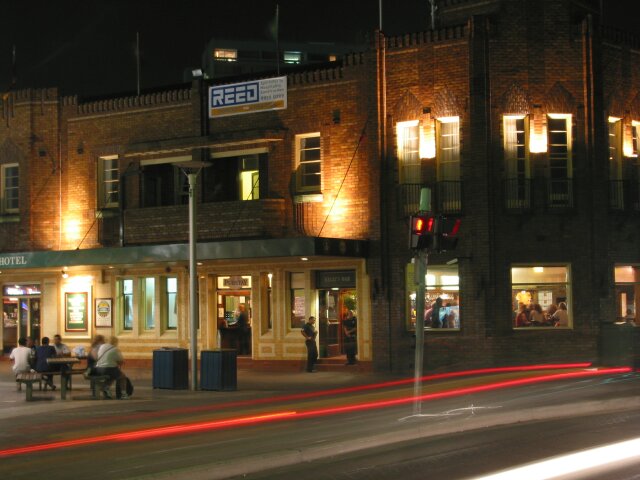 Manly Beach, New South Wales
Two things you learn quickly about Australians is that they love the outdoors and they love their sports. There is no better personification of these traits than our host upon our return to Sydney, Paul Shipley. Not only does Paul live in the surf mecca of Manly Beach, he rises early every day (sometimes before the sun) to go surfing AND he delivers weekly surf reports as "Shippers, The Surfing Salesman" for the radio station where he works
Sydney, New South Wales
Shippers and his girlfriend, Jenn, continuted our Oz education: Garvin learning about cricket, Karen learning about Australian wines, and both completing their education on animals Down Under with a trip to the Sydney Zoo (that's an echidna on the right, by the way).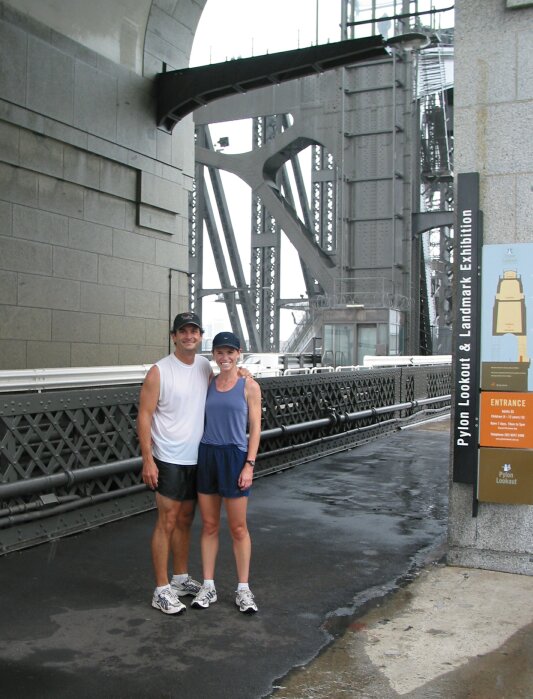 Sydney, New South Wales
While in Sydney we also kept up a tradition of ours: running across famous bridges. So add to our growing list (Golden Gate, Brooklyn) the Sydney Harbor Bridge. Just so happens on that day it poured rain. We can't complain, though, seeing as Australia has been suffering through it's worst drought in a century, and everybody in the city was thrilled to get their first significant rain in months.
NULLARBOR. IT MEANS "NO TREES"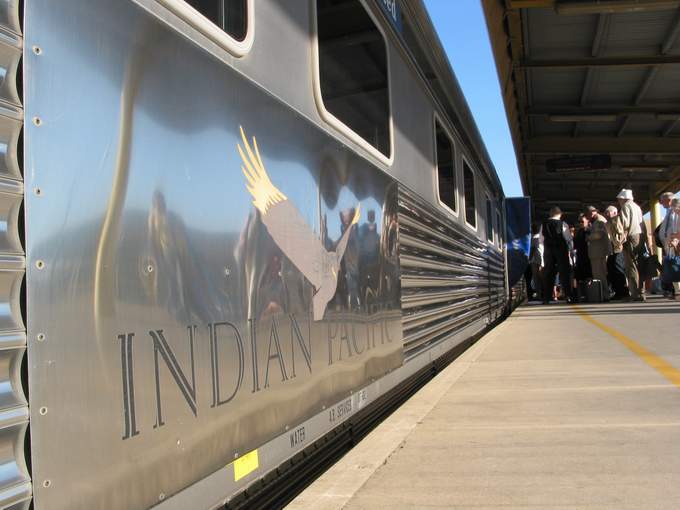 Adelaide, South Australia
Getting across the bridge was easy, though, compared to our next task: getting across the country from Sydney to Perth (about as far as New York to LA). We talked about flying, ride-sharing, even hitch-hiking, but eventually decided to board the Indian Pacific. The IP is the second longest railway in the world and travels straight through the Outback.
The three-day journey took us through miles and miles of, well, nothing. It took an entire day just to cross the Nullarbor Plain (on the world's longest stretch of straight railroad - nearly 300 miles). Nullarbor, by the way, means "no trees" in Latin. As you can see the name fits.
The train did stop once in the Nullarbor, at the former railroad, almost ghost town of Cook. The present population is just four ... and with good reason.
When you are staring at a whole lot of nothing for that long, you can imagine what a thrill it is to see a change, any change, in scenery. Thus, we were very excited to spot big red kangaroos, emus (an ostrich-like bird), and a herd of wild camels.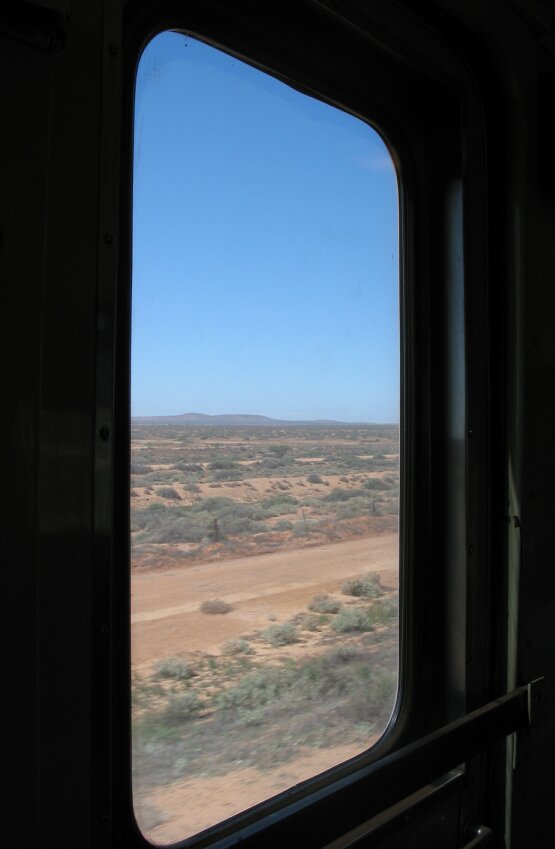 Nullarbor Plain, Western Australia
Asked if we would do the trip again, the answer would be "yes," but next time in a sleeper car. Three days sleeping upright takes a toll on your back. Even so, it was good training for the Trans-Mongolian, now just a couple of months away.
CLEANING (up after) MISS DAISY
Now, we may have left our "real" jobs behind, but that doesn't mean we are opposed to doing some work on the road. So, for a week in Western Australia we toiled, sweated, ate and slept on a farm. Through the organization WWOOF (Willing Workers On Organic Farms) we found ourselves at Bossy Boots Organic Farm in Balingup, about four hours south of Perth.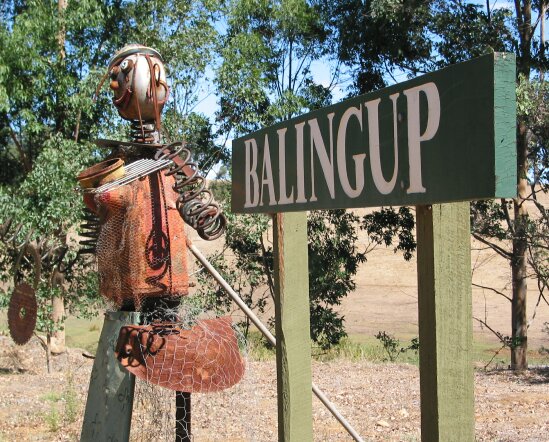 Balingup, Western Australia
The Benson/Creagh family welcomed us with open arms and put us to work right away. We picked tomatoes, eggplant, pears, and figs; we planted broccoli, cauliflower, and cabbage; and we cut tomatoes ... a lot of tomatoes for sun-drying (we even built the tables on which to dry them).
Balingup, Western Australia
Balingup, Western Australia
The crowning achievement, though, of our work efforts had to be cleaning Daisy's home. Daisy, of course, being the farm's pig. (feel free to insert joke here about that job being not too different than the one's we had).
Balingup, Western Australia
Balingup, Western Australia
Our work was rewarded with great hospitality from the Bossy Boots clan (Roz, Tom, Leonie, 3 year old Jack, and 11 month old Harry) including some great meals. We were given our first taste not only of kangaroo meat, but also some tasty emu pie ("first you see 'em, then you eat 'em" we say). We left the farm with a much greater appreciation of just how much work goes into growing the food we eat.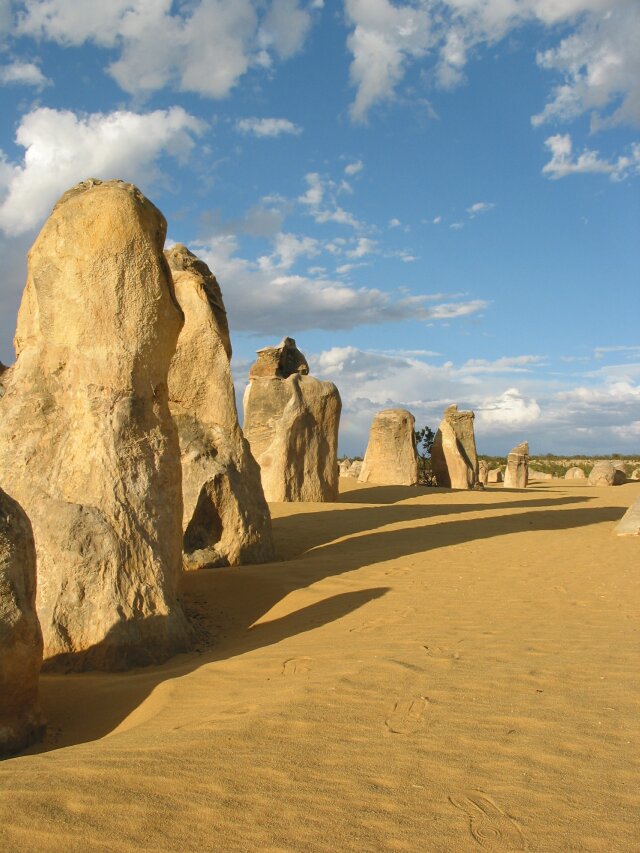 Nambung National Park, Western Australia
Finally, with only a few days left in our Australian adventure we rented a car and headed north from Perth to do some sightseeing. We arrived at Nambung National Park just before sunset. We had come to see the Pinnacles: a sea of cone-shaped limestone formations created by thousands of years of erosion (all the other, softer rock and earth around them eroded away, leaving just the Pinnacles). Were it not for the busloads of other tourists nearby, you could easily imagine this is what Mars might look like.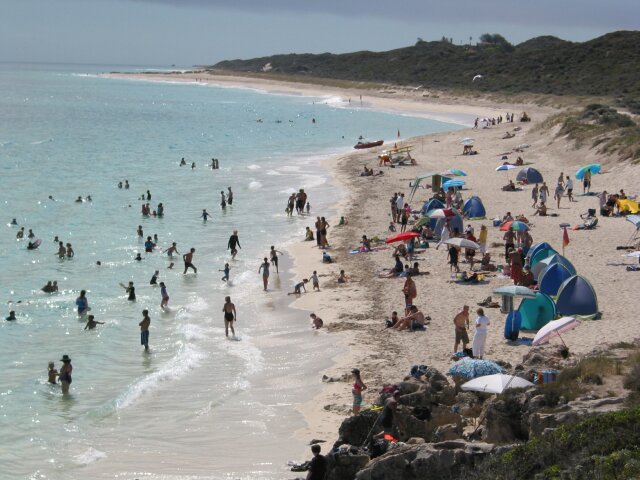 Yanchep, Western Australia
As we then headed back south, the temperature in Western Australia started heading north. It eventually topped out in Perth at 108 degrees (the same day in Boston, we understand, it was just 8 degrees). We sought relief with our first ever swim in the Indian Ocean.
As we expected our time in Australia came and went too quickly but we were left with a warm (actually, hot) feeling and a wish to one day return and see all that tourist stuff we missed the first time through.
By now you know, there are always more pictures to see. (Funny, the pretty ones never have us in them)

Kingoonya, South Australia
All photographs Copyright Garvin and Karen Snell 2004